Ca y est l'Année de l'Arménie en France a commencé. Profitez en pour découvrir ce petit peys plein de charmes en allant à des manifesations autour de vous. Il y en a forcément. Je ne saurais quoi trop vous conseiller, si ce n'est tout ce qui est relatif au talent décalé et méconnu de 2 des figures de proues artistiques arméniennes : Serguei Paradjanov (allez voir ses films si vous avez l'occasion), et Komitas la référence en matière de musique classique. De toute manière, il y a de quoi faire.

Pour ce qui est de l'année de la France en Arménie, ca commence sur des chapeaux de roue aussi.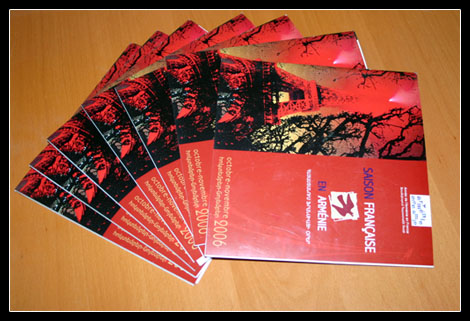 . Le festival du cinéma français qui s'inaugure demain (à l'affiche un savant mélange de grands classiques, les Bronzés, la Chèvre, le Père Noël est une ordure, et des films disons d'art et d'essais, j'irai voir, on a recu des invitations à la Fondation), la délégation française qui a pris d'assault la capitale ce week end. Parlons en tiens :), ou plutôt regardez.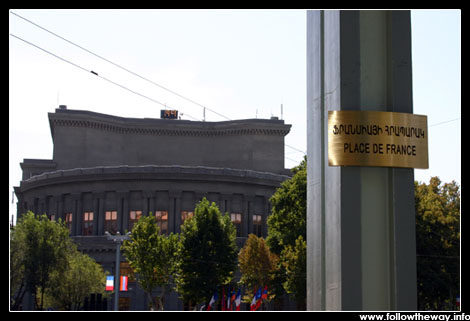 La toute nouvelle Place de France.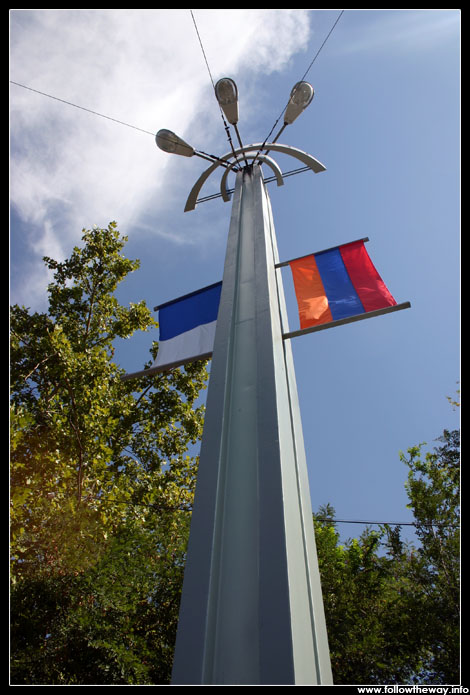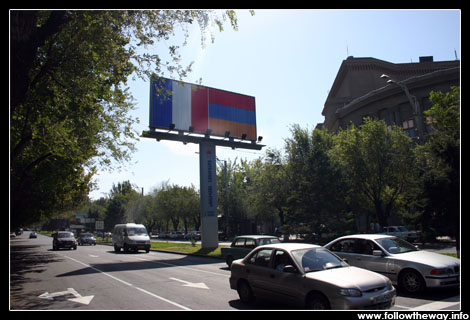 Bleu blanc rouge dans les rues Mashtot et Sayat Nova.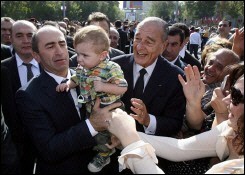 (Photo AFP)

Notre président particulièrement touché de sa visite. (visez la tête du président Khotcharian (arménien) apparement peu enclin aux bains de foule). Ceci dit, mis à part le côté limite folklorique de la délégation et ses personnalités de la diaspora venues se recueillir sur la terre de leurs ancêtres persécutés, le discours du président prenant parti dans la polémique de la reconnaissance du "génocide" par le gouvernement turc a été, vous le devinez, accueilli ici comme une ouverture dans la lutte ancestrale de la reconnaissance de celui ci. L'autre sujet de discussion, celui de l'entrée dans l'Union Européenne, peut faire sourire. La Turquie et la Géorgie y entreront avant, et si Erevan survit, le reste du pays reste sous développé.

Samedi soir, le grand Charles (Aznavour) a donné un triomphal concert devant une Place de la République noire de monde, sur une scène digne des concerts des Rolling Stones. Le pauvre Charles donnait probablement le concert de sa vie devant un public visiblement aveuglé par la renommée du chanteur, ne tenait guerre compte de la fossilisation avancée du chanteur, peinant à assurer, de manière méconnaissable ses classiques et saluait la forme et l'énergie juvénile de l'icône de la diaspora arménienne. Enfin, j'ai vu le grand Charles à Erevan, beaucoup auraient aimé être à ma place.
Quelques images.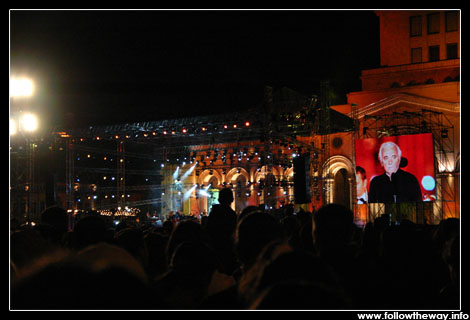 Concernant les activités de la Fondation Humanitaire Suisse, on inaugure coup sur coup le centre de formation EspaceS à Erevan, et un tout nouveau bâtiment à Gumri, le centre Arevamanouk (comprenez Enfant de Lumièrre, en arménien), rassemblant les activités de KASA à Gumri, et la fondation Leo Gmur, oeuvrant à la réinsertion psychosociale des enfants défavorisés de la région. Je m'occupe de gérer toute l'édition des documents papiers et électroniques de ces inauguration, c'est pas chose aisée. Du coup, j'ai lâché le pied sur les formations informatiques. 3 semaines que je bosse 6 jours par semaine dans une urgence plus ou moins présente. Il faudrait que je me ménage pour tenir jusqu'aux congés de fin d'année.

Dans un registre plus dérangeants, d'étranges graffitis sont apparus en plein centre ville. Onnick Krikorian montre les images, et évoque les réactions.
A la prochaine
Here we are, the Year of Armenia has started in France. Here is the program, in french.

Concerning France in Armenia, it is starting well.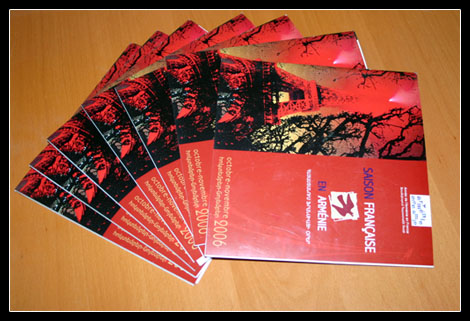 . French Cinema festival is being inaugurated tomorrow (a mix of classic comic movies, and more unknown ones, I'll give you some updates, I've received some invitations through the foundation), french delegation has came in Yerevan this week end. Let me say some words about it, and even show you some pictures.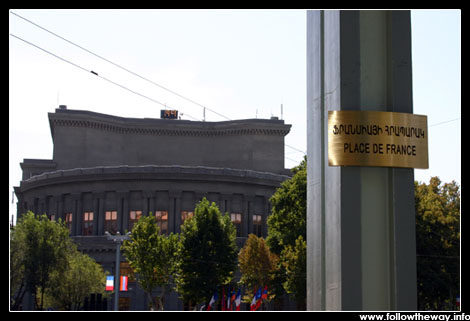 The all new France Square (formerly called Opera Square).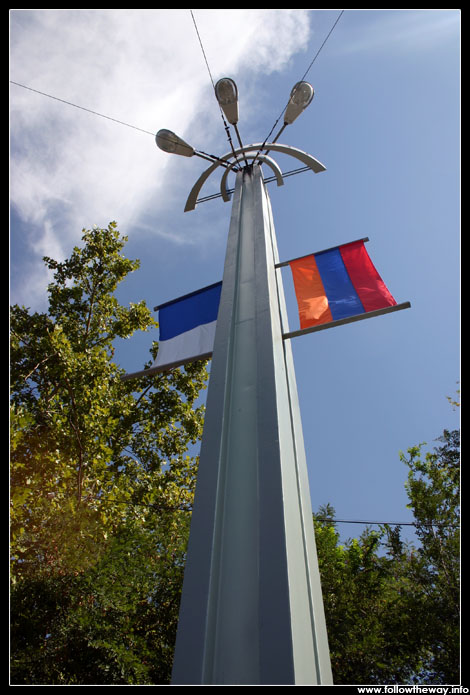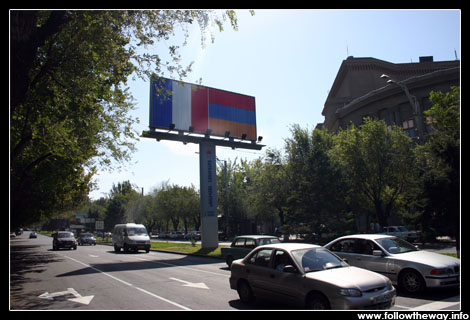 Mashtot & Sayat Nota streets.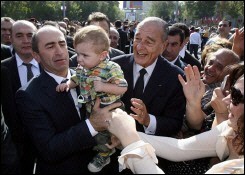 AFP picture.

French president Chirac, who seems to enjoy his stay (look at Khotcharian president, who doesn't seem to be so used to meeting the crowd.).
Anyway, put aside the folkloric aspect of all these businessmen came here on their persecuted ancestors, French President Chirac's speech, asking turkish government to recgnoze his history about the "genocide" made the event here. The other issue about Armenia entering EU, is not really actual. Turkey and Georgia will be integrated before.

On saturday evening, Charles Aznavour gave a triumphal concert in front of an overcrowded Republic Square, on a stage that could host both of ACDC and the Rolling Stones. Poor Charles gave maybe the concert of his life in front of an attendance totally blinded by his fame. He could barely sing properly his classical songs, but who really cared? Most of people present were saluting his energy. Anyway, I saw Charles in Erevan. Many people would envy me ;).
Some pictures.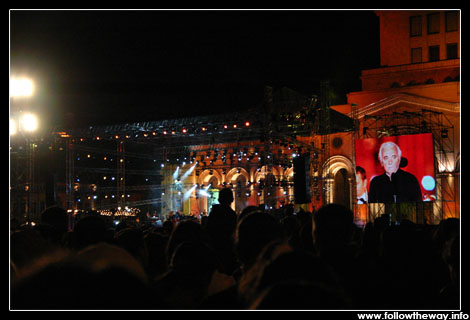 About my humanitarian foundation's activities, : we are inaugurating consecutively EspaceS training center in Yerevan, and a new building in Gyumri, Arevamanuk center (Child of Light, in armenian), hosting KASA activities in Gymri and Leonardo Gmur foundation, aimed on psychsocial support for kids. I'm in charge of managing all the editing tasks about documents concerning these events, and it's not so easy, i really swear. It's been three weeks I'm working 6 days a week in tight schedules, so I need to watch out about myself until Christmas holidays in late december.

Something a bit more insane : some strange tags, Yerevan downtown. Onnick Krikorian shows pictures. And reports reactions.
See you