Heh, it's been exactly one year since I registered on Hospitality Club, thanks to Morgane, Anne et Guillaume, really nice french people i met in Sziget festival
365 days, 1 wintercamp, 5000 kilometers by hitch hiking, and really nice meetings from Rouen, Paris, Riga, Yerevan with lovely people and weird nights after, the experience has been much more than wonderful. :)
For the ones who (still) don't know about it, just check the website :
Our aim is to bring people together – hosts and guests, travelers and locals. Thousands of Hospitality Club members around the world help each other when they are traveling – be it with a roof for the night or a guided tour through town. Joining is free, takes just a minute and everyone is welcome. Members can look at each other's profiles, send messages and post comments about their experience on the website.

The club is supported by volunteers who believe in one idea: by bringing travelers in touch with people in the place they visit, and by giving "locals" a chance to meet people from other cultures we can increase intercultural understanding and strengthen the peace on our planet.
For members, see you somewhere behind this screen, for the others, just register, it's totally free but watchout, it's a kind of addiction :)
And a special thanks to all the armenian (and others) members I met since 6 months here in Armenia. It's been really a pleasure to spend time with you :)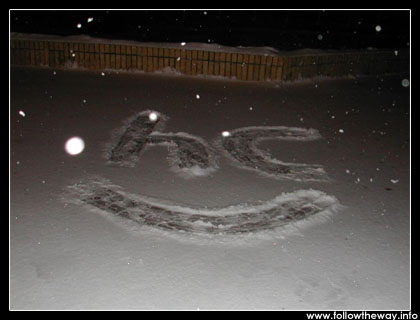 Somewhere near the checkpoint between Poland and Lithuania, December 2005, 28th.