Happy new year all, I'm a bit late but still in time as I have until the end of january. [Insert what you want here], [here too], and [still there] for this new year. You got it, I wish you all the best for 2007. No resolution for me, I would forget it in 3 weeks. I started 2007 in Paris, surrounded by my family and my friends. I forgot for 3 weeks armenian coldness, fog, snoI found back a washing machine, warm showers. I'm coming back to Yerevan tomorrow morning, and passing from +10°C in Parid to -15°C to Yerevan won't be an easy thing..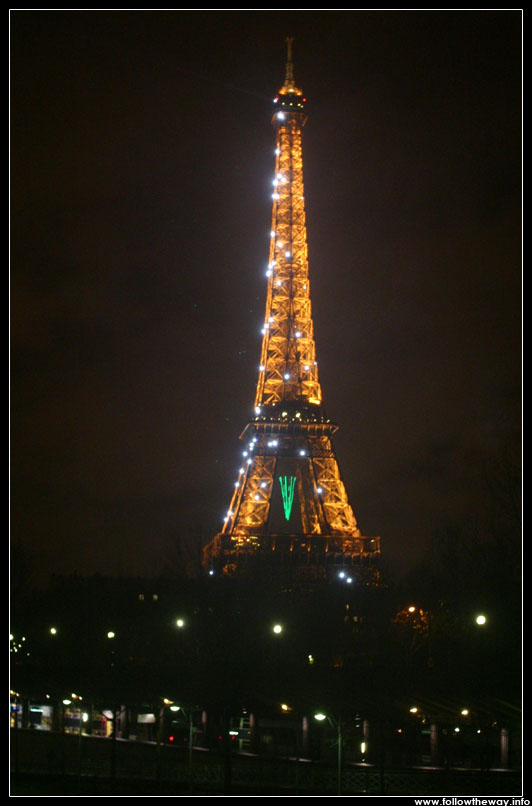 Eiffel Tower, 31 of December, a few minutes before midnight.
Bonne année tout le monde (en retard, mais il paraît qu'on a jusqu'à la fin du mois de janvier, donc ca va). [Inserez ce que vous voulez], [ici aussi], et [encore là] pour cette nouvelle année. Vous l'avez compris, je vous souhaite tout ce qu'il y a de plus agréable pour vous pour cette nouvelle année. Pas de résolutions pour moi, dans 3 semaines ca sera oublié. J'ai commencé 2007 à Paris, entouré de ma famille, et à revoir les amis de promotion. Oublié donc pour 3 semaines le froid, la neige, le brouillard. Je retrouve la machine à laver, et les douches chaudes avec une pression décente. L'occasion de discuter avec les uns et les autres sur le futur, à peu près 2 ans après être entré dans la vie active. Je rentre demain à Erevan, et passer des +10°C parisiens aux -15°C arméniens s'annonce sportif, je vous raconterai.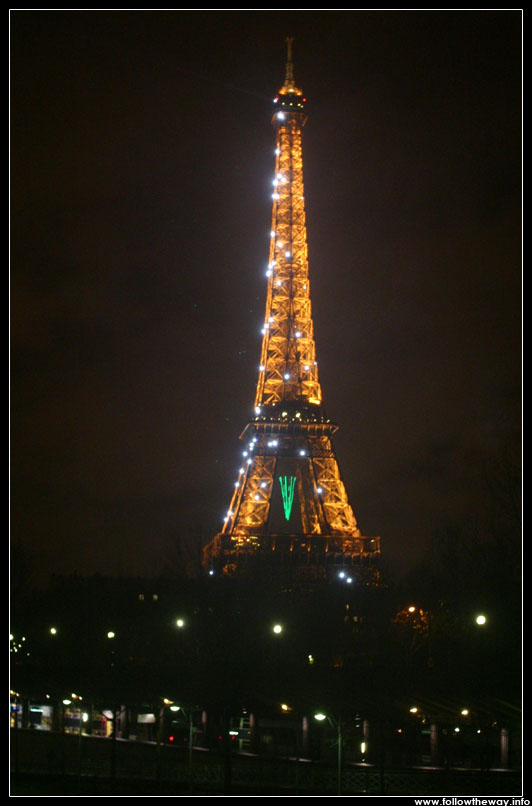 La tour Eiffel le 31 décember, quelques minutes avant minuit.

Et personnellement, après avoir passé 9 mois dans le Caucase, et à mi-chemin de mon mandat pour KASA (il me reste un peu plus de 6 mois à travailler avec KASA, j'arrête le 30 juin 2006), je me rend compte que l'enthousiasme débordant dont je faisais part il y a de cela quelques mois n'est plus vraiment là. J'aurais peut être pu mieux faire, mais bon. Les Centres Internet Communautaires ne fonctionnent pas aussi bien que je l'aurai souhaité (et que mes supérieurs aussi j'en ai l'impression). J'en assume une partie des responsabilités. Et mes erreurs de jeunesse me serviront de lecon pour la suite. Plus de rigueur et de leadership par certains moments m'auraient été précieux durant certaines périodes clés. D'autres facteurs relatifs à l'organisation interne de KASA sont entrés en jeux, mais leur place n'est pas vraiment sur ce blog (en tout cas pour le moment). 2007 est là, et l'après Arménie approche à grand pas, (dans 6 mois, mine de rien, ca viendra très très vite). Et chaque jour je m'interroge justement sur mon avenir. Je me posais la question justement il y a quelqutes temps sur mon futur boulot. Et les enseignements de cette épopée arménienne sont légion. Déjà, j'envisage sérieusement de retrouver un job dans une entreprise, en lieu et place de l'humanitaire à but professionnel (ou alors dans une des 1% d'ONGs de taille mondiale), et garder un pied bénévole dans la coopération. Ca me permettra de continuer à cultiver mon côté punk :) Les ONGs de taille humaine de la taille de KASA permettent d'occuper un poste avec une autonomie accrue, ce qui humainement est plus qu'enrichissant (et j'y reviendrai plus qu'une fois dans mes futurs billets), mais il est temps pour moi de passer à autre chose. Je dirais que pour l'instant j'ai envie de repartir à l'aventure, dans un autre pays, mais ces derniers mois m'ont appris à me méfier comme la peste des certitudes, donc je laisse toutes les portes ouvertes. A priori, l'écosystème internet reste le domaine dans lequel j'ai le plus de compétences, donc je commencerai naturellement à chercher là dedans, sans pour autant fermer aucune porte cependant. Voilà, il est 2h du matin, comme toutes les veilles de départ, je n'arrive pas à fermer l'oeil. Demain à la même heure je serai en contrée arménienne, pour ces 6 derniers mois de cette aventure.