Ca y est, les premières neiges sont arrivées.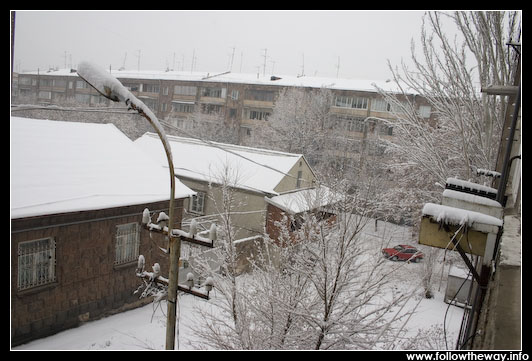 La vue de ma cuisine

10 cm en une nuit. La température est remontée de 3 degrés (de -5 à -2), la terrible fourmillère urbaine et polluée qu'est le centre ville d'Erevan s'est calmé d'un coup. Moins d'agitation, les passants prennent plus leur temps. Les marshutkas roulent au pas. C'était même agréable de voir les commercants du marché de Barekamoutsyoun (où j'achète mon petit déjeuner tous les matins) se sourirent entre eux., Toute une spère au ralenti.
Et les Arméniens attendent ce moment avec impatience. Une de mes collègues me disait que sa famille attendait les premiers flocons comme une délivrance après la grisaille de l'automne, et qu'ils fêtent cet événement comme il se doit.
Après l'été, ses diverses frasques en tout genre, les soirées sans fin sur les terrasses à côté de l'opéra, l'hiver montre un tout autre visage du pays. Fait ressortir la véritable nature des gens. Il faut le vivre une fois au moins (malgré les températures négatives – ca ne fait que commencer- et les pannes d'électricité)
Sinon, dans un autre registre, j'ai enfin retiré mes billets pour mes vacances de noël. Je serai donc à Paris du 23 décembre au 11 janvier, avec un passage éclair sur Lausanne. D'ici là, je vais tirer ici même un bilan à mi-parcours de cette aventure arménienne.
Pour finir quelques photos (la couche nuageuse à couper à la hache font que la lumière n'est pas terrible). Je referai quelques sorties ce week end notamment.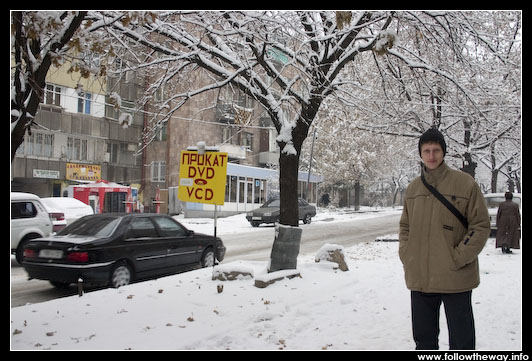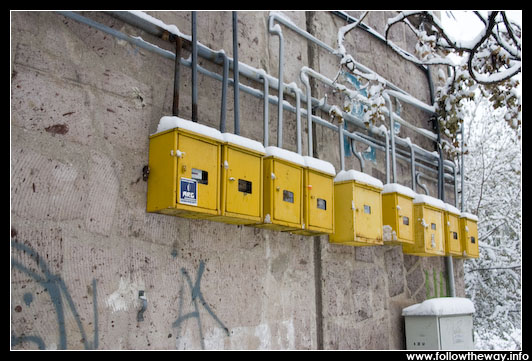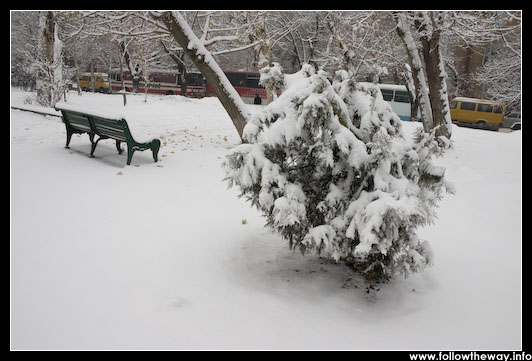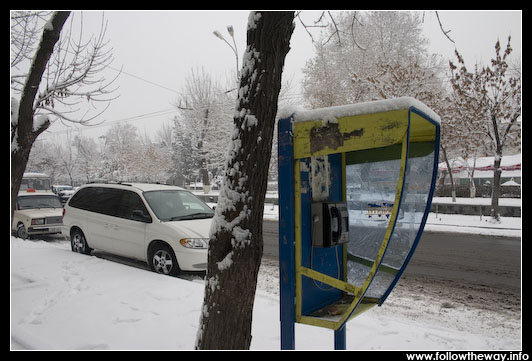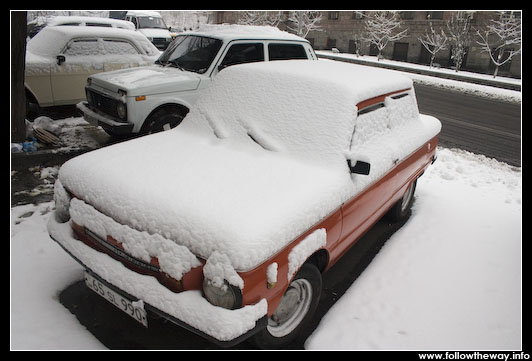 The first snow is here :)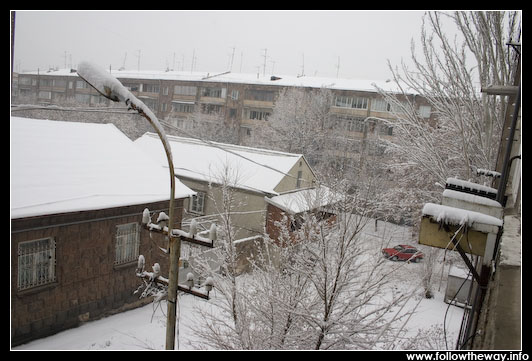 Here is a view from my kitchen.

10 cm in one night. Temperature went up from -5°C to -2°C. The urban & polluted sphere of Downtown Yerevan calmed down. Marshutkas slowed their speed. It was nice to see people smiling in Barekamutsyun market (where I usually have my breakfast). It nice to see this sphere in a peaceful mood.
And Armenians wait for this moment with impatience. One of my workates told me that her family usually welcomes the first snow as a delivrerance from the dark autumn mood. And celebrate.
After summer, fashionly dressed girls, and endless nights in open air cafes, Caucasian winter shows a totally differente face of the country, and the real human nature from Armenian people. Something worth seeing, despite of the rigorous weather, negative temperatures, and electric blackouts.
I got my flight ticket for France. I'll be in Paris from Dec. 23 to Jan. 11. Since then, I'll draw some conclusions of my first half or my Armenian adventure. Right here.
Before leaving, here are some pictures of the snow. Light was pretty bad. I'll post more this week end, hoping that the sun would appear.